Following various announcements for a possible start of construction of the Notre Dame des Landes airport, a series of articles were released in the press that pretty much regurgitated copy-pasted clichés. One of these articles caught our attention notably. In almost all the articles that would preach the possible eviction and the final catastrophe of ZAD we read "200 people, alter-globalists, continue to camp in ZAD." The figure might seem rough. The term "alter-globalists" is not a term that the people who chose to fight against the airport and the world of "development" would embrace. But we don't give a damn about that! For now we will hang on to the bad joke that describes what's happening here as "camping".
It aims to significantly minimize the scope of what could happen if Caesar [T/N: operation "Caesar" was the cop's attempt in October 2012 to invade the area and persecute activists] and his troops returned to the area to destroy it. It's legitimate to ask whether the authors of these articles are deliberately seeking to design and impose an ultra-minimalist caricature of the occupation movement or if they just copy the State's terminology and haven't even bothered to visit the area and seek the truth with their own eyes.
Recall that it's been over four years and that many people have come to live here in response to the inhabitant's and farmer's call outs to not let the land fall in Vinci's hands and therefore be gradually deserted. In the fall of 2012, operation "Caesar" destroyed over 20 occupied houses and living spaces. More than twice were rebuilt in the ensuing months with hard work thanks to the solidarity committees and the residents from the surrounding area.
Concerning the "camp", at the moment there are more than 50 places of collective self-built homes. Small villages, houses, farms and other buildings were saved from destruction, renovated and occupied. It is true that some of us are staying in caravans or other mobile homes, however, a large number of self-built homes in our area are remarkably creative works of art and crafts. Because of the circumstances, for the building of these homes, a great variety of techniques and building materials were used and most of them for free such as: earth straw, mud, beams and pallets, tires, glass, stones… Some homes are based on land, others on stilts, others are nesting in the trees and others floating on water.
Our homes are definitely more joyful and friendly than the residential buildings in a row, the Eco low-rent houses and other grey buildings! Around these homes, ZAD has twenty new agricultural and horticultural projects and collective spaces for radio, festivals, canteens, bread bakeries, milk creation, sewing, reading, health care, bicycle or car repair. The old inhabitants made the choice to resist [T/N: State's] expropriation and eviction threats and decided to live with the occupation movement. Today we are all "inhabitants who resist".
No, we are not camping. We are creating, cultivating and inventing new forms of emancipation, despite the constant threat imposed by those wanting to see us disappear. We plan on living here forever and be an obstacle to the police presence and the work undertaken by Vinci. Several of us intend to keep on staying here after the airport's plans are dropped and none of us even thinks of leaving without fighting. We are not fragile pegs nailed in moist soil but hard ropes, strongly braided that no specific development policy [T/N: the State calls ZADs specific development areas, they are areas that, according to the State, must suffer "development"] directed by the logic of market and profit can untangle.
P.S: We are not the only ones that have the power to "camp", especially when we are referring to evictions and destructions of our houses, whether they are precarious or well rooted. We want to express our solidarity with other "campers" and unwanted people they want to erase from the map: nomads, Roma, homeless or undocumented.
And because a picture counts for 1000 words:
This is not a camp…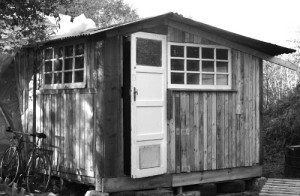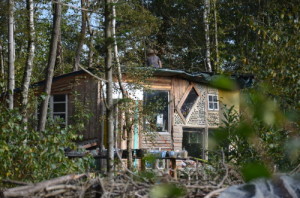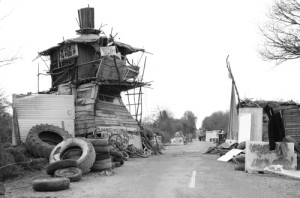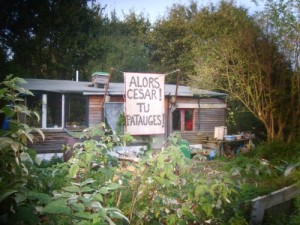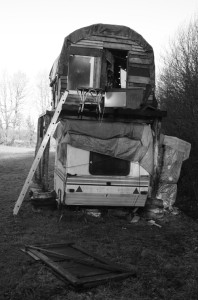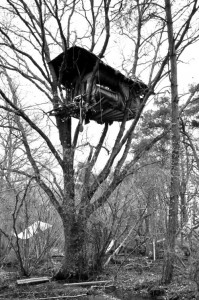 Source: zad.nadir.org