STATEMENT-PART A:
A chronological presentation of the case
On Friday February 1, 2013, a double robbery took place at the local branch of the Agricultural Bank of Greece and the Hellenic Post office in Velvento, Kozani, Greece. Following a mass police mobilization in the whole area, one person was detained in the surroundings of Ptolemaida, and three more were arrested later on during a police chase operation.
From the outset of their arrest the four detainees – G. Mihailidis, D. Politis, N. Romanos and A.D Βourzoukos – declared themselves to be anarchists. The comrades were forced to stop a passing vehicle in their attempt to escape during the police chase. They avoided armed confrontation with their pursuers so as not to jeopardise the driver's life.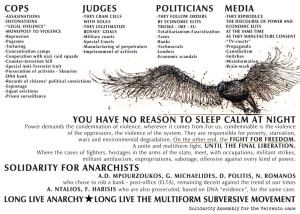 Continue reading Solidarity brochure about the persecuted anarchists of the Velvento case