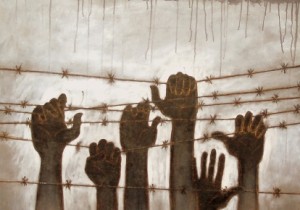 For the 4th time Spiros Stratoulis, on hunger strike for 59 days(since 11/11/2013), is transfered to the University hospital of Larisas, and for the 4th time he signs and leaves. According to his doctor Dimitris Mpampalis and his advocate Stratouli Konstantina Katsia, the treatment of the medical and nursing staff of the hospital until now is completely unethical, highlighting the right of the police forces to be at the place of examination and the prohibition of his personal doctor to have any contact with him.
The Medical Report:
7/1/2014
M. Spiridonas Stratoulis, 41 years old, prisoner at Larissa prison, conducts his 58th day on hunger strike. According to the medical files kept in the hospital he has lost 17kg which is equal to 19% of his total weight he had when he started the hunger strike.
Reports profound fatigue, weakness, restlessness-irritability, extremities' tremor episodes, dazzle vision and strenuous constipation. Presents often hypoglycemic episodes and strenuous tachycardia with a significant worsening in the standing position. Based on the above, he was inserted yesterday 01/06/2014 in Internal Medicine at the University Hospital of Larissa.
As in previous hospitalization in the University Hospital of Larissa I was not allowed not only to examine him but even speak with him. I noted in a previous announcement that excluding from the therapeutic team, the doctor who has created a relationship of trust with the hunger striker is unethical and affects his cooperation and his decisions and creates additional risks for the progress of his health.
The evening of the same day (06/01/2014) and under unknown conditions to me, Mr. Stratoulis undertook again he responsibility of stopping his hospitalization and returned to prison
My evaluation is that the continuance of the hunger strike by Mr. Stratouli due to the extremely long and extreme weight loss entails great danger of serious and irreversible damage to his health or sudden death.
Dimitrios Babalis
pathologist
Consultant'B NHS
Source: omniaTV