Stockholm 28/7
Communique about the night actions against the G4S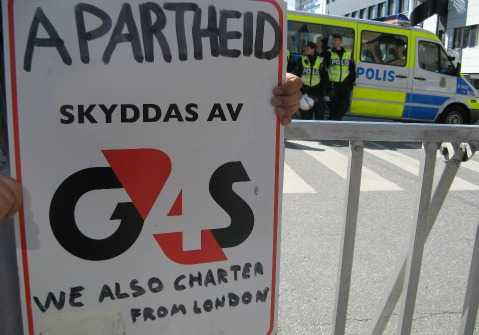 This night, premises and vehicles belonging to G4S have been attacked on several places in Stockholm.
After 66 years of expulsion, 47 years of occupation and 7 years of blockade, Israel has started another aggressive war against the trapped Palestinian people in the Gaza strip. The worlds 4th biggest military power is now furiously bombing a small area where 1,8 million people live, over half of them are under the age of 18.
When the bombs are falling and the tanks are rolling in, the people have nowhere to run. Israel's attack is levelling houses, hospitals and all infrastructures with the ground. The blockade makes any reconstruction impossible. The occupation and apartheid is made possible through the shameful silence of politicians all over the world and a couple of greedy companies which have no doubts to participate in the crimes.
One of those companies is G4S.
G4S is guarding settlements on stolen land, infrastructure and surveillance around check-points and the apartheid wall. They also take care of transportation of political prisoners from occupied ground to Israel, a violation of the Genève convention. Companies in Sweden which use the services of G4S are aware about all these. We demand all companies that have contracts with G4S to end those immediately.
Companies as G4S and others are making the occupation and apartheid possible, and they should not think they can act in safety here. There are numerous companies that profit from the occupation, and we support every initiative that strikes them.
It´s up to all of us, who oppose what´s going on in Palestine, to act.
We salute the Palestinian resistance, and we take on the struggle where it´s needed.
Freedom for Palestine
Boycott the Zionist state Israel
End contacts with G4S