Tonight, 14th February, comrades in our struggle were attacked by around ten neo-nazis in the street. Two of them were stabbed. They are not at risk but they will spend the night in the hospital as a precaution.
Fascist ideas kill. In Lyon, such actions are unfortunately part of a series of ultra-violent fascist attacks targeted against every person who opposes or doesn't agree with the fascist ideology.
We call to an immediate response. Anti-fascism concerns us all.
Antifascist gathering tomorrow Saturday 15th February at 2pm at Comedie square, Lyon.
NO PASARAN
Source: rebellyon.info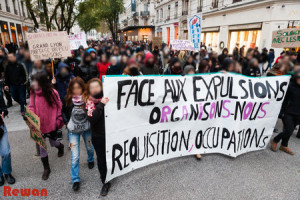 Un logement décent pour toutes et tous !
A Lyon, depuis le début de l'année, plu­sieurs cen­tai­nes de per­son­nes ont été expul­sées de leurs loge­ments dans l'indif­fé­rence géné­rale. Travailleurs, chô­meurs, étudiants, famil­les et enfants avec ou sans papiers se sont ainsi retrou­vés à la rue sans qu'aucune solu­tion de relo­ge­ment ne leur soit pro­po­sée. Alors même que la seule com­mune de Lyon compte plus de 24 000 loge­ments vacants (Insee, 2010), 5000 à 6000 per­son­nes sont à la rue. Face à leur nombre de plus en plus impor­tant, les foyers et cen­tres d'héber­ge­ments ne peu­vent pal­lier les caren­ces de l'État qui expulse sans ver­go­gne et sans pro­po­ser de solu­tions.
Continue reading

France:Manifestation pour le droit au logement